Choosing the right air conditioning opti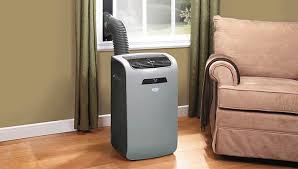 on for your home can cost you as little as hundreds, up to thousands, depending on what system is best for you.  There are Room Air , Casement Air, Wall Air, Central Air, Mini Split Air and High Velocity Air Conditioning.  We have listed below these different types of air conditioning options.
Room Air Conditioning: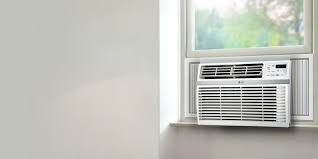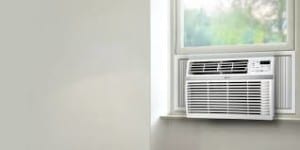 There are 2 different room air conditioning that you can choose from, Portable Air and Window Air.
Portable air conditioning can fit anyone's budget.  It cools a single room and can be transported from room to room.  It can be used in conjunction with a central AC unit which can supplement air conditioning during those very very hot days.  The portable unit can also allow you to cool one room that you are in and turn off your central AC unit if other rooms are not being used, thus saving you money.  Why cool the entire home if you are only going to be in one room for a significant amount of time?
Window Air Conditioning is another option which is placed in a window and cools a single space.  These are popular in smaller homes as they can cool up to 1200 square feet of a space.  Some homes may have more than one window unit and portable fans to help cool the entire home.  These units are usually removed during the colder months because of the drafts created from the installation in the window.  One other drawback to window air conditioning is that they tend to be somewhat noisy.
Casement Air Conditioning:
These types of units are very much similar to window units but are designed for narrow spaces and windows that open side to side or swing outward.
Wall Air Conditioning:
Wall air conditioning units is used for cooling homes with o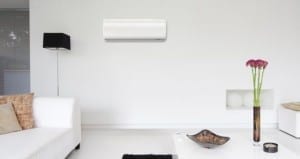 pen floor plans.  They cool a single room or small house.  Once this unit is installed, it is not removed like the window unit.   Professional installation is recommended because it involves cutting a hole in the wall.
Central Air Conditioning:
Central Air Conditioning units are by far the most popular systems.  Cool air is transported through ducts throughout every room in the house.  The unit is located outside the home and is the quietest.  For homes that do not have existing ducts, you may want to consider a ductless air conditioning system.
"Mini Split" Air Conditioning Systems":
These are similar to central AC units.  They both have an outdoor compressor and condenser unit but are considered a ductless system.  Mini Split air conditioners can be mounted on the walls or ceilings in as many rooms as wanted.
 High Velocity Air Conditioning:
A High Velocity Air unit is just like the mini split and central AC units; running from an outdoor compressor/condenser.  Tubing connects the indoor evaporators to the outside unit, using no duct work.  Cool air is moved around by means of "aspiration", a forced burst of air.  This tends to make high velocity air conditioning more efficient than the conventional air conditioning units.
A/C Masters, Inc. provides heating and cooling, air conditioner repair & other ac repair services for residents on the Virginia peninsula. We believe that when it comes to indoor comfort, you and your family deserve only the best. A quality heating and air conditioning system provides value as well as comfort. We are proud of our years of service on the Virginia Peninsula, including: Hampton, Newport News, Poquoson, Yorktown, Williamsburg as well as the counties of York, James City, Gloucester and Mathews. We service from the bridge to Williamsburg and everything in between.