HVAC Heating Repair Services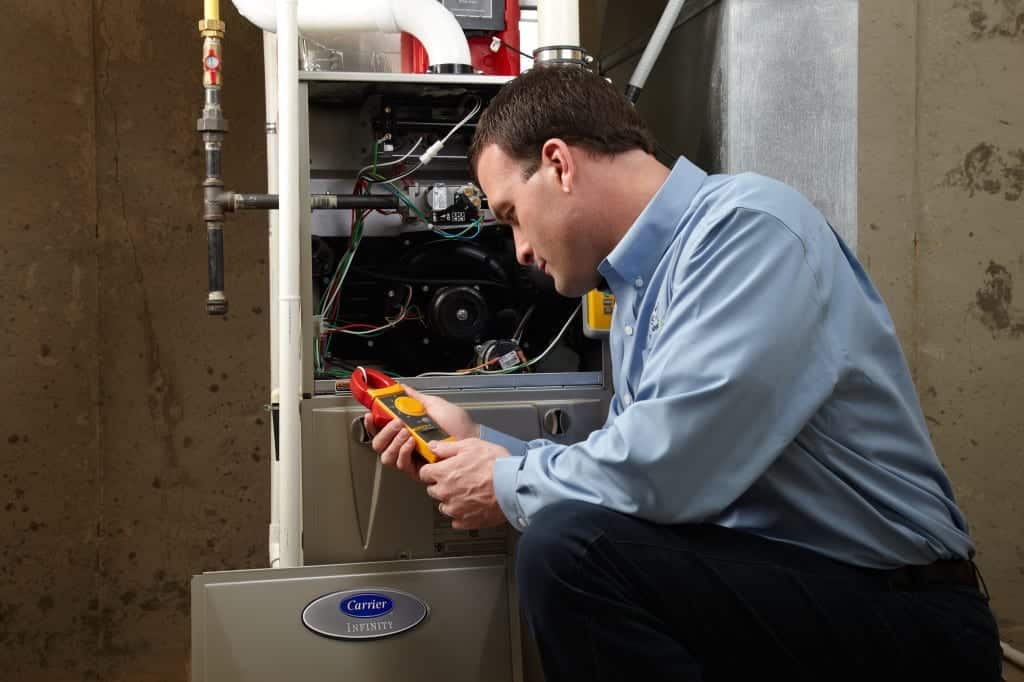 When the weather gets cold, and there's a chill in the air, nothing quite beats the feeling of coming home to a warm, dry house. But when your home's central heating and air conditioning just can't seem to keep the cold at bay, then that warm, comfortable home starts to feel a whole lot less inviting. If this situation sounds all too familiar (or maybe like something you'd prefer to avoid) then call A/C Masters, and let us put our years of professional HVAC repair experience and expertise to work for you.
Looking for a heating and cooling repair? Central heating system not performing as it should?  
Call A/C Masters and let us get you back on track. We specialize in residential heating repair services, maintenance and HVAC installation for the Virginia Peninsula and Gloucester Point areas, and we've been doing it right for 20 years! At A/C Masters, we put our customers first in everything we do, which is why we back all our heating and cooling repairs with a 100% "Job Done Right" satisfaction guarantee, that way you can focus on what really matters: spending time with your loved ones in the comfort of your own home.
So, call or click today, and find out what makes us one of the top-rated residential HVAC contractors and HVAC repair companies in the Virginia Peninsula.
More About Heating Repair Services
Before we go further, what does the "central heating" part of central heating and air conditioning mean?
Your home Heating, Ventilation and Air Conditioning (HVAC) system is designed to help regulate the temperature inside your home by either adding or removing heat from the air. Though there are a variety of ways to do this, most heating and cooling systems rely either on either some form of fuel consumption to generate heat, which is then distributed throughout the house, or on heat being transferred from a source outside the home to inside the home. This process can also be accompanied by some form of electrical heat generation in order to help boost the central heating and air conditioning system's utility during the colder months. Most of the time, this heating process takes place automatically thanks to the various control systems and thermostats we all rely on to help keep our homes warm and comfortable.
However, just like any other mechanical system or piece of equipment, repeated and continuous use increases the likelihood of wear and (eventually) breakdown. Most of us rarely spare a thought for our furnaces and heat pumps quietly working away, and that's the way it should be. However, just like the other essential machines in your life, sometimes breakdowns happen and you need to schedule a HVAC repair. So when that inevitable moment comes, it's important to find a reliable, professional HVAC contractor to help with those heating and cooling repairs, that way you can get back to the things that really matter.
But getting a high-quality heating and air conditioning repair doesn't mean you should have to break the bank. At A/C Masters, we believe that your comfort doesn't just refer to how warm your house is, but rather how much peace of mind you have to enjoy it. That's why we offer seasonal and monthly promotions on heating repairs and HVAC services to help you stretch your dollar further, as well as a 100% satisfaction guarantee that you'll be happy with your heating and cooling repair, or we'll make it right at no cost to you. And for even more ways to save, check out our newsletter or ask about enrolling in one of our Service Agreement plans to keep the savings rolling in year after year.
But there's more to maintaining your HVAC system than getting it repaired when it breaks. Just like your family car, your heating and air conditioning system should have regular, routine maintenance in order to keep it running at its best. Routine maintenance helps find and (in many cases) prevent those oncoming heating and cooling repairs by catching them when they are still minor and manageable, which means you save time and money not worrying about a down system when the cold weather hits. Regular HVAC service also helps keep your utility bills low and your warranty in check, which can substantially reduce your costs as your heating and air conditioning system ages.
What is Routine Maintenance?
Let's talk about HVAC services, specifically routing maintenance.
Most of us own an automobile, and if we don't, we certainly know someone who does. Automobiles are high performance, complex machines that work hard to make our lives better and get us where we need to go. In a lot of ways, your vehicle is like your central heating and air conditioning: it's a system of complex, high efficiency machines that makes your livfe easier and more comfortable every day. In fact, without your heating and air conditioning system, your home and your life would probably be very different to what it is today.
And just like that vehicle in your driveway or garage, your heating and air conditioning system needs to be maintained and cared for, that way its there when you need it most and able to perform at its best. We all know that cars need tune-ups, routine inspections and regular maintenance, and that equally important heat pump or furnace outside is no different. Without these important checks, your heating and air conditioning system will continue to lose efficiency, and eventually might even break down, necessitating a costly and inconvenient heating repair.
As our heating and air conditioning systems run, they continuously put wear and tear on vital components, which may eventually cause them to fail. Not only that, but these systems are often exposed to harsh and/or extreme temperatures and conditions year-round that may impact their performance year after year. Add to that the continuous barrage of pollen, dust, dirt, mold, and pet dander that we subject our systems to daily, and it's no wonder that many heating repairs occur during the coldest parts of the year: cause that's when they have to work the hardest!
Some common problems that may result from insufficient system maintenance include:
Persistent heat loss
Thermostat or control panel continuously calling for heat
System frequently cycling on and off
Weird and/or loud noises
Pilot light refusing to stay on
Abnormally high energy bills
How do I prevent these kinds of problems?
Luckily you have options when it comes to HVAC services. At A/C Masters, we offer our customers both a 21-point tune-up and inspection, as well as our 56point in-depth tune up that comes with our A/C Masters Service Plans. When you choose A/C Masters for your routine HVAC service, you can expect the same quality HVAC service that our customers know and trust from the peninsula's top-rated HVAC contractors and service professionals. We'll make sure that your heating and cooling system is in tip-top shape for the coming heating season, and all our work is always backed by a 100% "Job Done Right" guarantee, that way you can rest easy knowing that your home comfort is in good hands.
And for even more value, check out our Service Agreement (SA) Program. When you become a SA customer, you can add priority heating and cooling repair scheduling, and a discount on all non-warranty heating and cooling repairs, to the fantastic service you've already come to expect from a top-rated HVAC contractor with over 20 years of heating and cooling service experience. Even better, once you enrol in our SA program, your heating and air conditioning system will be inspected twice per year by a qualified, professional HVAC technician. That way you can make sure your residential heating and air conditioning system keeps on running smoothly while also helping catch those minor heating and cooling repairs before they turn into major problems. And if your residential HVAC system ever does go down, you can rest easy knowing that our service team will get your heating and cooling repair scheduled before the day is out without all of those annoying after-hours fees.
We know that heating and cooling repairs can be expensive and often strike at the worst of times, but that doesn't mean your interactions with an HVAC contractor have to be painful too. Our certified service technicians are dedicated to getting your heating and air conditioning system repaired as quickly and painlessly as possible. We believe that our HVAC service and repair customers deserve the same quality, professional experience we expect for our own families. So when you call A/C Masters, we promise to provide award winning HVAC service at reasonable rates, and all of it backed by our "100% Satisfaction" guarantee. Find out what our other customers are raving about and give us a call for all your residential heating and cooling repairs and HVAC service needs.
And when you do, please visit us online and let u know how you did, we'd really love to hear from you.